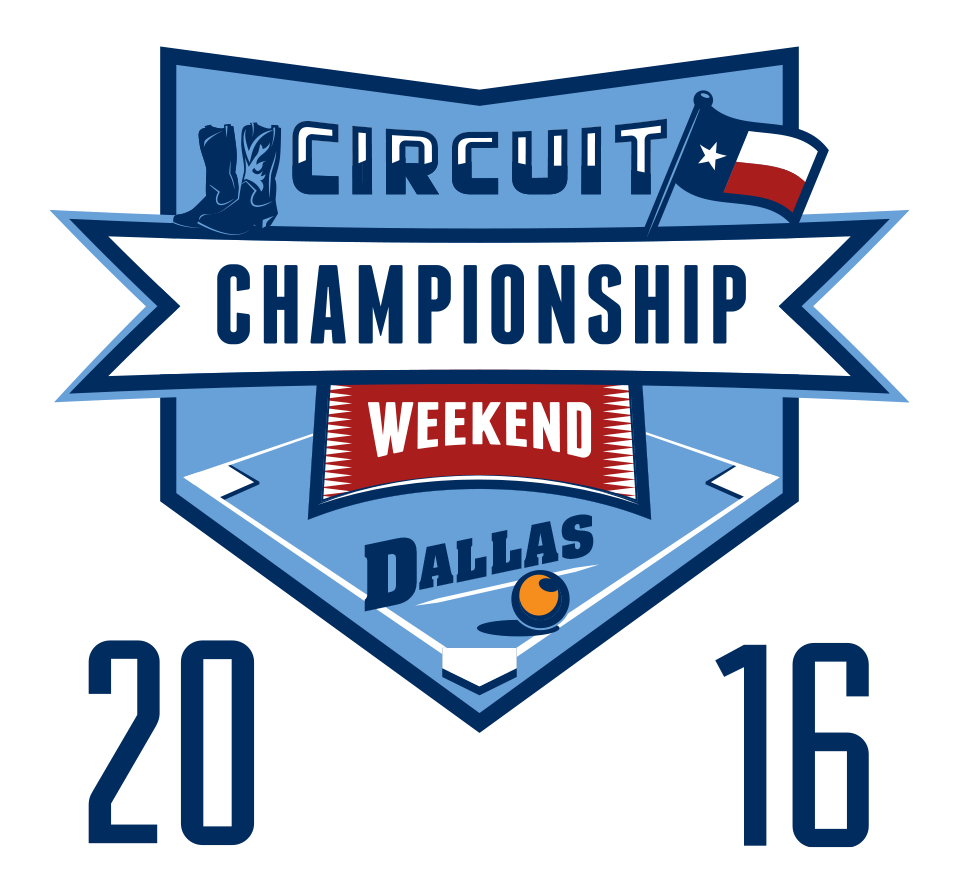 CIRCUIT CHAMPIONSHIP WEEKEND
NOVEMBER 12-13, 2016
#CCC2016
FIELDS
MoneyGram Soccer Park, 2200 Walnut Hill Ln, Dallas, TX 75229
SOCIAL EVENTS (See details on right)
Discover the #CCC2016 Social Event Agenda coming soon.
---
PRIZE POOL
Kickball365 will award cash prizes to teams after the completion of a Circuit Event. Note, the Prize Pool minimums may increase/decrease the expected payout at any time depending on the final number of teams for this particular event.
Garbage
Please clean up after yourselves and bring garbage bags.
Shelter
Tents may be used on the sidelines but may not be allowed to be staked into the ground.
Miscellaneous
We recommend that you bring/use sun screen lotion to avoid sunburn, and perhaps a light windbreaker or hoodie/sweatshirt for comfort in case it is windy both days of the tournament.
Sponsors
---
CIRCUIT DETAILS
REQUIRED CHECK-IN AT HQ
All players & referees will be required to check-in at the Mandatory Registration located at the HQ. Failure to check in at HQ will result in yellow card for their first game at the Circuit Event. Identification Cards (ex. Driverâ??s license) are required at the time of checking in. Players or teams that fail to check-in with Kickball365 place the Circuit Event at risk of losing Circuit privileges and place the team/players at risk of not being able to participate in future Circuit Events.
TRANSPORTATION, DIRECTIONS, & PARKING
There will be parking available at the field location. Public transportation via taxis is highly recommended if your team does not have a rental car/van. Be sure to check with your Hotel hosts regarding the amount of time it should take to travel to the events. DISCLAIMER: There is NO official transportation from Kickball365 being provided to the fields. Kickball365 recommends players take advantage of the Hertz Rent-a-Car Sponsorship offering.
TIME TO ARRIVE AT FIELDS
Teams are encouraged to report to the field an hour before Pool Play Games are set to begin. We encourage all teams to arrive early to secure a parking spot. Players are to be held accountable for the behavior of their non-playing coaches, Captains/Coaches, teammates, Franchise Owners, supporters and guests. If the conduct of any member of such group or groups is deemed by Kickball365 to be unsportsmanlike or disruptive to the competition, then the coach, teammate, Franchise Owner, supporter, guest, and/or Player is subject to the same disciplinary actions as stated above.
EVENT RULES
All Circuit Events utilize the Official Rulebook of Kickball365.
Once Kickball365 receives and accepts your entry, you will not receive a refund if you alert the Kickball365 after the deadline, you may not give or sell your player spot to anyone else, and you may not transfer your player/team entry fee to future events.
You must be at least 21 years old to participate in this event and the social events planned for during the weekend. You must be in good health and physically prepared to compete in this event. You are required to sign a waiver at registration at the HQ Tent on the Game Day. Team jerseys or t-shirts are required to participate â?? there is no policy that states you must wear a Kickball365 t-shirt for the Circuit Event.
CANCELLATIONS
Kickball365 will, in its sole and absolute discretion, allow for a 100% refund of a player registration up until the point of the registration deadline. No Refund will be granted on or after the registration date (no matter what the circumstances). Entry fees are non-refundable and non-transferable after the deadline. No exceptions.
INFORMATION BOOTH (HQ) AND LOST & FOUND
The eventâ??s HQ booth will be at the entrance of the fields to assist players, referees, and fans with any event questions and help you find your way to your field. HQ will also serve as the eventâ??s Lost & Found. Items that are found throughout the day will be kept here. Any valuable items NOT claimed by the end of the event will be shipped to our Washington, DC office. To claim a lost item after the event, please contact the Support Team at info@kickball365.com.
MEDICAL INFORMATION
The Medical Team for this event will be the local Emergency Department. They will be available to assist with any event day medical needs and administer first aid when necessary.
---
SOCIAL MEDIA TIPS
We encourage all players and fans to use the Circuit Event hashtag.
SPECTATOR TIPS
Track Your Team
WATCH THE GAMES
Spectators are encouraged to watch games from the sidelines only. Please do not sit in the deep outfield of the marked fields.
Fans can bring pop-up tents, pop up chairs, and umbrellas (if needed).
Please do not bring tents that require stakes.
If you cannot attend the event in person you can watch a live stream of the event on WatchKickball.com
---
LOOKING FOR ANSWERS? CHECK OUR FAQ